Buffalo Wired's Online Cloud Backup is an enterprise-grade direct-to-cloud backup solution that protects servers, desktops, laptops, tablets, and smartphones. Protecting your data has never been as easy and hassle-free.
Our online backup system works in the background saving your data to the cloud where it can be restored at a moments notice in the event of a device failure. That's piece of mind! Buffalo Wired's online back-up program is a set-it-and-forget-it solution to a catastrophic problem that many of us ignore due to the annoyance and hassle of doing it; backing up data.
"Unrivaled initial backup speed and a full set of features and tools make it a top choice for off-site data protection."

(Source: PC Magazine, February 2016)
Protect all of your data. Never pay a ransom. Sleep easier at night. Our Online Back-up Solution is a PC Magazine Editors' Choice judged to be the fastest solution in terms of upload speeds.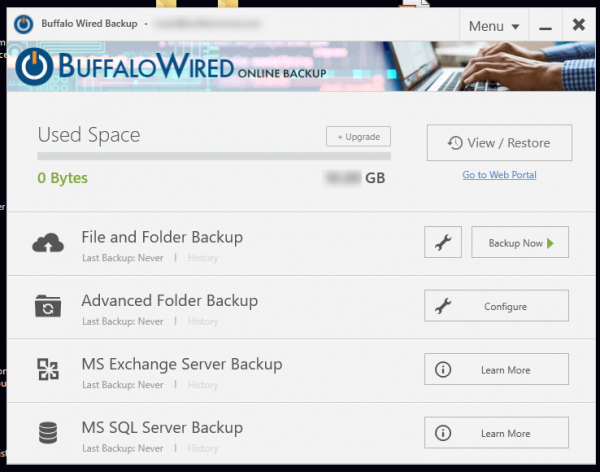 Buffalo Wired Online backup is feature-packed and easy-to-use. Through our simple interface you can easily setup your computer or server to backup on a daily, weekly, or monthly schedule. The system includes email updates when backups have run or not completed successfully, and the system intelligently backs-up only the new or changed files, so it operates at maximum speed and efficiency.
Plus, with our easy file-selection tools, you can backup your whole PC, or just important files and folders by selecting them from the interface.
---
Call Us to Signup NOW! 716-213-4444
---
Cloud-Based Storage From Everywhere
By backing-up your information to the cloud you can easily access, manage, and recover your data from any device via an online web portal — log in from any browser: even your tablet or smartphone. By default, your data is stored in one of 15 global Tier III and Tier IV data centers worldwide but can also be stored on your own local cloud or any cloud storage provider.
Our Online backup solution supports Microsoft Windows XP*, Windows Vista SP2 and Up, Windows 7, Windows 8/8.1, Windows 10, Windows Server 2003*, 2008 (SP2) and up, Microsoft SQL Server 2008 and up, Microsoft Exchange Server 2010, 2013. Mac OSX 10.8 and up, Linux volumes supported by network-mapping to a PC or Mac, Andoroid 2.2 and up, iOS 7.0 and up.
Ultra-Safe and Secure Encryption and Regulatory Compliance
We encrypt files with AES 256-bit encryption before being transferred over secure SSL (AES 256-bit) to one of our top-tier data centers. We also encrypt your data at rest within our data centers. For added security and privacy, we offer UltrasafeMAX, an exclusive, double blind encryption method that gives you, and only you, access to de-crypt the data.
Our Cloud backup has been built to meet the needs of businesses and organizations that handle sensitive information. Pro-active regulatory compliance capabilities ensure that you stay ahead of potential data risks. HIPPA-Compliant, PCI-Compliant, SSAE16-Audited, Sarbanes-Oxley (SOX) Compliance, FINRA-Compliant, CJIS-audited.
*Some current features not supported with this OS.
Online Backup Pricing
| Space (GB) | Price (/mo.) |
| --- | --- |
| 50 | $20.95 |
| 100 | $41.95 |
| 500 | $95.95 |
| 1000 | $114.95 |
| 1000+ | Contact Us! |
Protect All of Your Data
With so many unique devices, protecting your entire company's data becomes a daunting test of compatibility. Luckily, our Cloud Backup solution supports the most popular operating systems, servers, workstations, laptop fleets, and even mobile devices.
Unlimited Version History
While some providers won't let you access every previously saved iteration of your files (ex only versions from the past 15 days), our system provides an unlimited version history without such restrictions for complete piece of mind.
Ransomware Detection
Our Cloud Backup includes Anomaly Detection: a system that can warn you when the number of mass-changed files surpasses a specific threshold, which can limit damage from ransomware attacks.